Activities @ Desire Resort Los Cabos
Daytime Activities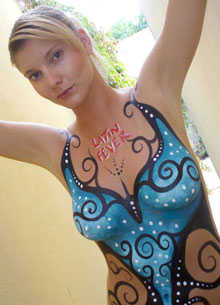 Wake up to the action of Desire and enjoy a world of sensual activities that will remind you why you love Desire Resort & Spa Los Cabos so much. If your interest is water sports, play our water polo, beach and pool volleyball. Our sexy contests, events and activities will give you many more reasons to enjoy the pool every day, heating up the deliciously erotic atmosphere of our clothing optional resort.
For quieter activities, you will also find darts, ping-pong and a variety of board games or a selection of books.
Nightly Entertainment
Following all of our guests' desires, the entertainment program of Desire Resort & Spa Los Cabos includes enticing, different night themes that will match your mood for more seduction every time. Live your wildest fantasies, dressed up in the perfect outfit and let loose as you blend in with the sensual atmospheres of Desire.
Become part of our games and contests or just witness everything with your partner, no matter how you decide to live Desire Resort & Spa Los Cabos, every moment at our clothing optional resort will seduce you from head to toes.
Sunday

Romance in White

- Discover the seductive environment of the Melange Bar as the moon shines over our clothing optional resort and our live band fills the atmosphere with the most stimulating sounds at our Romance in White Night. Picture yourself in your most elegant white and sensual outfit, dancing with your couple right next to the fire pit and the moon. Can you think of anything more enticing than that? This will be a night of deliciously erotic contrasts with our passion evoking games and steamy shows that will just simply make you wish your stay at Desire Los Cabos could last forever!

Monday

Moonlight Night

- This will be a night to remember, a night to seduce and be seduced, a night to let your most secret fantasies be revealed in the moonlight. This will be our Moonlight Night. Our Suki Restaurant will offer the most delicious Asian fusion specialties that will set the perfect mood for more moments of seduction. After dinner, the Melange bar will be the place to dance with your significant other. Our live DJ will be playing sensual rhythms from 9:00 pm to midnight, offering you the most tantalizing opportunities to end up in the arms of a stranger, that can become a new friend. Continue with the splurge of the night at the Jacuzzi Lounge until 2:30 am.

Tuesday

Fantasy Night

- Make your dreams come true by becoming a chocolate human bar! And if one of your fantasies is having a passionate encounter with your partner in a private jacuzzi filled with Champagne, just let us know about it and consider it done! Once you have achieved your most secret desire, you can come to Il Piacere Restaurant for a delicious dinner with your partner and enjoy the most exquisite dishes from our International a la carte menu while listening to live sax music. And right after dinner, put on anything but your clothes. Ladies, this is the night to stop worrying about not having what to wear, this time you can be so creative to show up covered with lampshades, cardboard boxes, tape, balloons, palm leaves, it's your call.

Wednesday

Naughty School Girl Night

- Desire Los Cabos features our "Naughty Schoolgirls Night" for the first time. Let your imagination take over and get into the most defiant attire for this fantasy night. For everyone's delight, our Suki Restaurant will be serving the most exquisite Asian Fusion cuisine once more. And the Melange Bar is the place where the fun will take place with our "Naughty Schoolgirls". At 10:00 pm, a classroom exam will assess your secret skills and a live performance will create the perfect atmosphere so that you and your partner can have the most fantastic, sensual evening.

Thursday

Glow Party

- Our Glow night is a promise of heat, fun accessories and sexy attires. A night that will bring all your fantasies to light! We will begin the evening at the Melange bar where we will get a premise of our unique Harp Laser Performance! Get on the stage and try it yourself.... Put on a plain T-shirt or nothing and play with the neon pens to impress everybody with your unique creations. In the disco L'Alternative the event will occur in the dark, letting the bodies glow with sensuality so that more than one will feel desirable, sexy and erotic. Our live performance will heat the place even more and will liven up the atmosphere to invite you to dance, enjoy and play the night away. Wait no longer, come out with just paint on your body and join us in this sexy, colorful fantasy of Desire, the time to shine like never before!

Friday

Caligula's Friday Night

- Just as the Roman Emperors are well remembered by their wild parties, our Fridays of Caligula will become a memorable event at Desire Los Cabos. While red wine, cheese and bread will be the flavors to delight your palate with, the most captivating atmosphere will fascinate all your senses. Put on your most sensual, revealing toga, come with your couple to the beds of the Melanage Bar and begin enjoying the pleasures of life. Be seduced by the elements, admiring the sensual movements of our aero dancers and fire performers, who will certainly increase the heat of the night. Then, the strongest gladiators will fight, displaying their great courage and passion, so don't be surprised if you feel compelled to release all your inhibitions and simply surrender to the most deliciously erotic moments in the history of our clothing optional resort.

Saturday

Sexy Eve

- The temptations of the night turn into desires. Be seduced by the sensual bodies that will be stripping their clothes off in the shadows of the Melange Bar and enjoy another hot, steamy night at Desire Los Cabos. That's right, Saturday night with us will give you every opportunity to feel part of the always deliciously erotic ambiance of our couples only resort. Whether you join us in your choice for the occasion and rock our lingerie fashion show, or remain an avid spectator, your sheer outfits will help you reveal most of your hidden desires. Yes, the dress code of the night will be sexy, sheer lingerie, and pajamas or hot boxers will be welcomed too.
All night themes are subject to change without previous notice and our Special Events hold their own programs
Need Help ?
Reservation Agents are standing by to assist you!